Assisted living offers seniors the opportunity to spend more time doing things they love while using less energy for chores and other mundane tasks. But exactly what services does assisted living provide, and how can you be certain the community you've chosen will provide the right kind of support for your loved one?
At All American Assisted Living in Wrentham, we offer a wide range of services for our residents based on their individual needs. Read on to learn more about how we match our seniors to the services that suit them best, and find out what you should look for whenever you're thinking of choosing an assisted living community.
Assisted Living vs. Other Types of Senior Living
Assisted living differs from other popular types of senior care, such as memory care and respite care. It's also distinct from independent living. Here are the key differences:
Memory care typically offers 24/7 supervision and support for seniors with Alzheimer's, dementia, and other cognitive challenges. Care is usually administered by skilled nursing staff with specific medical training for these issues.
Respite care is for temporary residents of a senior living community. Since this type of care is often chosen by seniors who are recovering from hospital stays, specific services vary depending on the needs and abilities of each resident.
Independent living is for seniors who want the support of a community, but who prefer to handle the tasks of daily living by themselves. Communities like ours often provide maintenance and groundskeeping services for independent living residents and invite them to participate in planned activities.
Conversely, assisted living provides a mixture of independence and key support for seniors who need help with common tasks. Seniors in our assisted living community enjoy the freedom to choose their own activities and enjoy privacy when they want it, but help is always close at hand should the need for it arise.
Must-Have Assisted Living Services
So, what should you look for when you're considering an assisted living community for yourself or a senior loved one? We've put together a list of services we believe are essential for any truly comprehensive assisted living program, and we're happy to share them with you below:
Dining Assistance
Cooking and serving food can be an effort for seniors with reduced mobility, so it's vital that your chosen assisted living program offers chef-prepared meals. Staff in your chosen community should also be willing to help serve food and assist seniors who need help eating.
Help with Dressing
As we age, our ability to stretch our bodies and fully extend our joints diminishes. These issues can make it difficult to put on clothing efficiently, leading to irritation and fatigue. High-quality assisted living programs typically provide support for seniors who need help dressing in the mornings, changing into activity-specific outfits, or undressing before bed.
Moving Between Areas
Some seniors have trouble walking unassisted for extended periods of time, while others might get lost on their way to different areas. Since many falls in senior communities occur moving to and from the bathroom, it's vital to choose a community that offers transportation assistance for seniors even on short trips. This kind of care and attention to detail helps ensure that your loved one is never without the support they need—even when they're between other activities.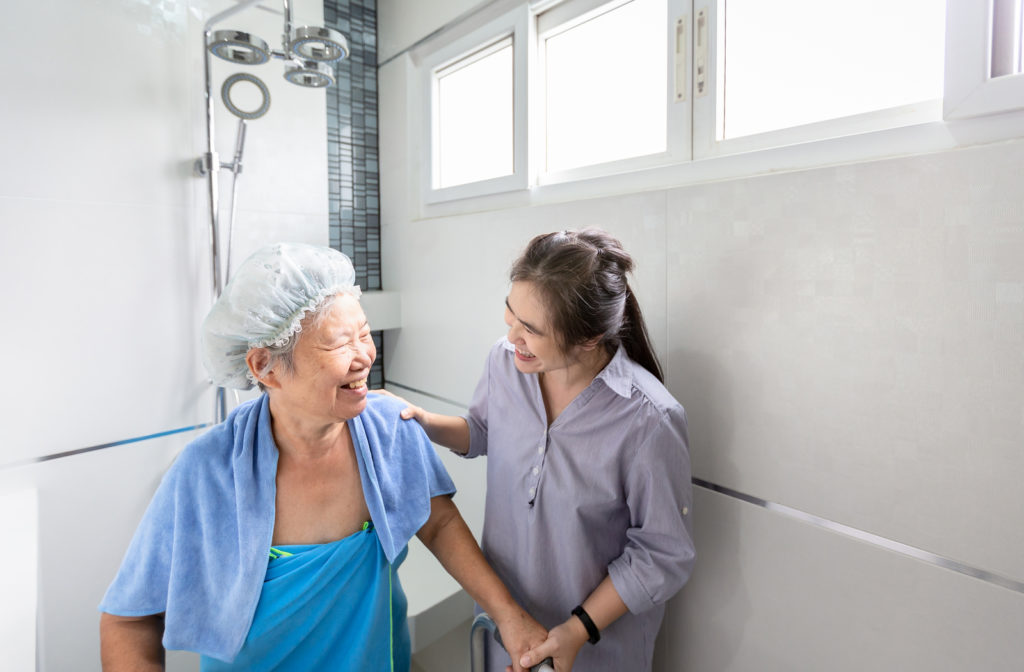 Bathing & Bathroom Activities
Getting older can make it difficult to reach areas of the body that were once easy to access. This can make it harder and slower for some seniors to maintain proper hygiene.
Fortunately, assisted living communities often provide help with these tasks for residents who need them. Make sure to choose an assisted living community that will assist with these tasks when requested, but provide your loved one with privacy when they want to take care of them personally.
Choose the Services Your Loved One Needs
The most important factor to consider when choosing an assisted living community is the services your loved one would benefit from. What can they do by themselves, and what do they need help with? What seems painful, difficult, or irritating for them?
Having this conversation with the senior in your life can make it easier to choose an assisted living community prepared to provide them with the experience they deserve. Learn more about how we can serve your family's needs by contacting us today and speaking with one of our experienced team members.